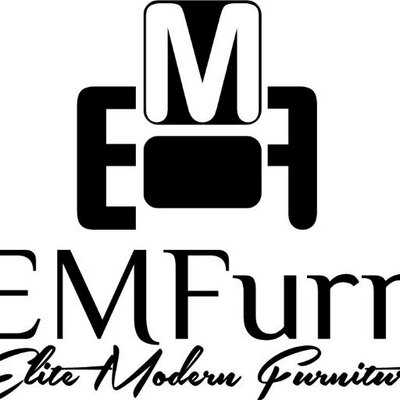 EMFurn is a modern, contemporary and mid-century reproduction furniture company that was founded in late 2013. It is an extremely new company that has yet to establish itself firmly in the reproduction market so there aren't many customer reviews on their service or products.
Compared to other Eames Chairs on the market, EMFurm's product is at the middle-to-high end price range, ranging from $999.00 – $1,099.00 USD depending on the grade of leather you choose. They have "Top Grain Italian Leather" and aniline leather available in a variety of colors and veneers in Dark Walnut and Rosewood. The selection is nice and they have pictures of their swatches. It's worth noting that the picture quality is poor and the swatches are unprofessional looking; they are unevenly cut and the lighting isn't very good. It isn't very promising.
The chair is the Herman Miller version and while it looks somewhat accurate from far away, there are only a few pictures of the chair details. I also saw that EMFurm do not go into depth about their materials, only stating the types of leather and that they are made of 7-ply kiln-dried plywood and die-cast aluminium. There is no mention of what type of foam is used, what type of stitching is used or whether the buttons and detailing are made of the same types of leather as the upholstery. It would also be nice to know where the aniline leather and veneers are from, though that information isn't given by many reproduction companies.
I also investigated their shipping and return policy. It's fairly standard, offering freight shipping for the United States and Canada. Shipping takes 7 – 10 business days once the order has been processed and is delivery to the curb, meaning that the customer is responsible for removing it from the truck and taking it inside. Shipping upgrades are available from $199.00 – $299.00 for services like inside delivery. It's possible to return your item within 14 days for exchange or credit minus shipping and handling and a 30% restocking fee.
There is a one year warranty for parts and labor for manufacturer defects, which is good. There are many other companies that don't offer any warranty or guarantees, though EMFurm's isn't the longest either (the longest warranty I've seen so far belongs to Rove Concepts at three years).
In addition to this, I had a lot of trouble reaching their customer service department. Their phone number is an American number, not a toll free number, meaning that I had to pay for long distance charges. As well, when I called during regular business hours, no one answered the phone and I had to leave a message. The answering machine cut me off after only a few seconds too. Their live chat wasn't online either. They are obviously not available 24/7 like they advertise.
Though EMFurm's website is very easy to use and very visually appealing, I wasn't happy with what I found out about their Eames Lounge Chairs or their service (or lack thereof). I'm also cautious because of their young age. I'd be willing to give them another chance and ask them for swatches and close-up pictures of their chair but as of right now, I'm not interested in pursuing them further.
Q&As:
N/A (Wouldn't answer the phone or live chat)
Product Summary:
$999.00 – $1,099.00
Herman Miller version
Available in Black, White, Red, Brown, Caramel, Antique Ebony, Distressed Whiskey, Cognac / Dark Walnut, Rosewood
Contact: 438-228-9583 or by live chat at emfurn.com