Source: Olek, "The Eames Design: A Legacy of Shock Mount Maintenance Or Failure"

There are many reasons why you may find yourself needing to repair or restore your Eames Lounge Chair. Maybe you can't resist an antique in need of a little love or maybe there was just an accident. If something happens to your beloved Eames chair, it's scary. Don't panic though. The best thing you can do is stop, stay calm and see what you can do to keep your Eames chair looking gorgeous.

Source: classic design, "Eames Chair restorations and repairs"

If something happens, my personal recommendation is to do your research. There are many tips on the internet on how to repair or restore Eames chairs, though you should take all of them with a grain of salt as the authors are usually not experts. With such a valuable piece of furniture, the only advice I would fully trust is from the manufacturer. However, for little things like scuff marks, sites like eHow and internet forums can be helpful.

Source: andyhatt, "Eames Lounge Chair Shock Mount & Drilled Panel Repair"

If something happens that you don't feel comfortable fixing by yourself, such as a very deep scratch to the veneer, it would be ideal to contact a repair and restoration professional experienced with Eames Lounge Chairs. However, that may not be a possibility due to your location, budget or a variety of other reasons. A general professional should be good enough, as long as you make sure that they are reputable and you inform them on the specifics of dealing with your Eames chair (more information can be found in Care & Maintenance).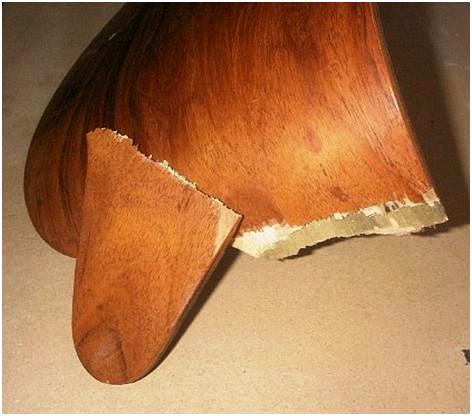 Source: WorthPoint, "How to Tell if a Eames Lounge Chair Has Been Repaired"

There is always a chance that something dramatically bad will happen to your Eames chair, such as an entire arm breaking off. If this happens, please contact the manufacturer. They're the best source of information about what to do next. My only advice would be to be wary of buying replacement parts from outside companies, as reproductions can vary in specifications.

Source: Olek, "Modern Furniture Restoration; Repair, Reupholstery, Refinishing, & Eames Lounge Repair"

The best way to protect your Eames chair is by following the manufacturer's instructions. Please take care of your Eames Lounge Chair and you will be able to enjoy it for years to come.
Some Restoration & Repair Companies:
Mod Restoration, "Eames Lounge Chair and Ottoman" 
Location: Brooklyn, NY
Mod Restoration is a prominent repair and restoration company that specializes in fixing classic furniture pieces like Eames chairs and antiques. Though it has been criticized for its slowness, the quality and excellence of its work is consistently great. Mod Restoration provides pricing on their sites. Note that they do not do repairs unless it is part of a full reupholstery project.
Prices:
Eames Lounge Chair reupholstery: $1,000 plus leather/fabric
Eames Lounge Ottoman reupholstery: $375 plus leather/fabric
Replace cushions: $400 (foam/Dacron-wrap) to $1,000 (down/feather-blend)
Refinish outer wood shell panel: $225
Location: Los Angeles, California but has an insured East-to-West Coast pick-up and delivery service all over the U.S.
Humemodern is one of, if not the most, well-regarded and reliable repair and restoration companies for Eames Lounge Chairs. Their  services include custom and original-style upholstery, repair and refinishing, metal and powder coating finishing, welding and fabrication. It is authorized as an official Herman Miller Inc. repair and restoration company, making it very credible.
Prices:
Not specified. Contact them for more information.
Location: San Francisco, California
Cow Hollow Woodworks, a relatively small repair and restoration company, is generally rated very highly in terms of quality, competence and customer service. Like any company, there are people who have had bad experiences, but most people are very happy working with Cow Hollow Woodworks.
Pricing:
Not specified. Contact them for more information.
Modern Conscience, "Parts + Spares" 
Location: Seattle
Modern Conscience is company that focuses on restoring vintage modern furniture and restoring antiques with spare parts. It has a streamlined, sophisticated site that seems easy to use. There doesn't seem to be a great deal of information about Modern Conscience on the internet as there is no Yelp page or very many client reviews. It offers repair, restoration and replacement part services.
Pricing:
Varies. Contact them for more information.